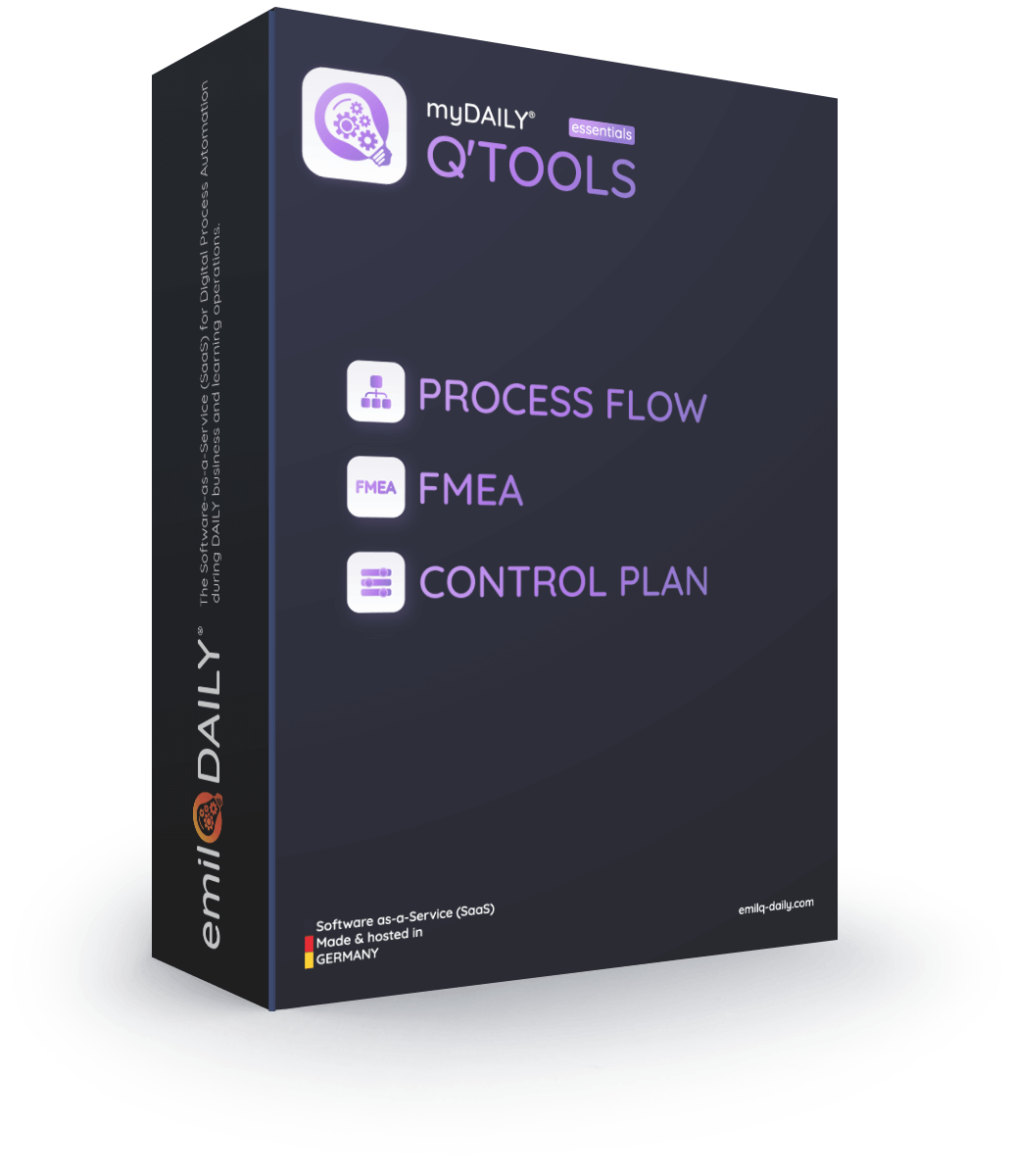 The Q'TOOLS essentials are here!
The quality experts among you will be pleased, because the time has finally come!

After a solid development project and first deployments with "Early Bird" customers, the Q'TOOLS essentials are now ready to use - for quality-conscious enterprises of all sizes and industries.

The Software-as-a-Service (SaaS) bundle Q'TOOLS essentials contains the "big three" quality tools

- the process flow chart (PROCESS FLOW),
- the process FMEA (FMEA) and
- the control plan (CONTROL PLAN).

The Q'TOOLS essentials can be used individually or as an integrated part of automised process flows or project structures (such as APQP, PPAP, etc.).



What is emilQ DAILY®?
emilQ DAILY® is a 360° SaaS system (Software-as-a-Service), which covers all facets of Remote Collaboration, Digital Learning (Distant Learning on demand), Continuous Improvement and the Automation of DAILY processes. As well as, Learning Procedures for Enterprises and Educational Institutions - across all functions and fields of education.
The development and testing of emilQ DAILY® started in 2013 which enabled a market launch in 2018. Since then, emilQ DAILY® has been continuously developed further, in close collaboration with our customers, to enable modern digital-aided and innovative interaction between people - leaders, managers, employees, teachers and students - in all areas of use - 100% independent of time and place.

For Enterprises
The 360° SaaS solution (= Software-as-a-Service) for Digital Process Management in DAILY business.

Some functions & features:
Remote collaboration (Home Office etc.)
DAILY task handling as well as
Digital Project Management
Interactive Process Management
Mapping and Automation of business processes
Continuous Improvement (CIP)
Whether for Private Enterprises of all sizes and branches, or Public and Educational Institutions, emilQ DAILY® is the seamless solution for digital interaction across all levels - 100% independent of time and location.
For Educational Institutions
The 360° SaaS (= Software-as-a-Service) solution for digital-interactive remote learning.

Some functions & features:
Creation of individual learning content to
Guided, multimedia learning experiences
Live training, tutoring/coaching
Remote examinations
Digitally-aided issuance of certificates and degrees
Whether for Educational Institutions, or for Further Education on the job, emilQ DAILY® is the seamless solution for Remote Learning/Distant Learning - 100% independent of time and location.
The Functional Apps - how is my system assembled?
Each emilQ DAILY® system is assembled from browser-based apps (functional apps), according to the individual requirements and functional desires of our customers and are replicated as a white label systems - like an element-based prefabricated house.
Subsequently, the branding, initial setup, individual design of content (optional) and automation of daily processes/learning procedures (optional) etc. takes place as desired. emilQ DAILY® systems can therefore be orientated more towards business or education (or in both directions) and can be changed and expanded at any time.
Daily access by users to your myDAILY®SYSTEM is online (installation-free) via an individual, secured URL (e.g. customername.mydaily.tools) - 100% independent of time and place and with all common hardware devices (smartphone, tablet, notebook, desktop).
Application examples of emilQ DAILY®
In the course of the daily use of emilQ DAILY®, there are many different user cases. Some of them are listed below.
Remote Leadership
Remote/distant leadership is now part of everyday business life in a globally interacting world, which requires employees and learners to collaborate independently from time and place. As a leader and manager, you can use your myDAILY®COCKPIT (type: Captain's Cockpit) to maintain a 360° view of current events, across all processes, functions and areas, at all times and provide direct orientation to the players - regardless of time and place.
Distant Collaboration
In our Global Business World, remote collaboration has become part of the daily business of all players - whether from home, the train, plane or office desk. The combination of myDAILY®ACTION and myDAILY®LIVECONNECT enables 100% collaboration and communication - from any place and in real time.
Real-time Communication
In an agile, remotely interacting world, it is essential to be able to communicate with each other continuously and if necessary, 24/7 ("the one's day, is the other's night") in 360° mode. This means on all channels (instant, live) and by using all media types (text, image, audio, video and more). myDAILY®LIVECONNECT is the appropriate tool for this purpose - at any place, with any device and in real time.
Digital Remote Learning
Remote Digital Learning is as much a part of our everyday work as an Internet connection. It is the enabling basis of an agile working world. People access multimedia learning elements in a targeted manner and continuously empower themselves to meet their respective work, learning, or examination requirements. A combination of MOXIE®Library, myDAILY®CHECKUP, myDAILY®ACTION creates the ideal 360° learning environment.
Process Management and Automation
Only the definition of optimal business and learning processes (Business/Learning Excellence) enables all participants to implement them correctly and on a daily basis (Best Practice) and thus to achieve the right results - whether from home (Home Office), from the train, plane or from the office desk, many of these daily business and learning processes can be automated to reduce the risk of failure - up to 100% (Poka Yoke) - and save time and money for all involved.
24/7 Provision of Information
What could be more important than having the right information, in the right place and at the right time? Ideally at a (generally known) location and therefore easy to find. Information is an important enabler. For some to make the right decisions, for others, to receive and correctly process tasks. myDAILY®BLOG enables a continuous supply of information - tailored to the target group.
Digital Project Management
In modern organisations, daily business and learning tasks are usually bundled into projects. This promotes focus, orientation and transparency for all players involved. myDAILY®PROJECTS, in conjunction with myDAILY®ACTION and myDAILY®COCKPIT, supports not only project management (structuring and resource planning), but also the immediate implementation (task definition, assignment, execution and monitoring) of corresponding project tasks - naturally independent of time and place. Automation options included.
Quality & Management Systems
"Quality wins", said a clever person once, which can be implemented via the continuous improvement process (CIP) and from then on performed on a daily basis. Audits, assessments, tests, examinations followed by corresponding - intelligently and dynamically applied measures, whether in a business or learning context, helps people and therefore organisations, to move forward. emilQ DAILY® completely maps the CIP with all of its requirements and facets. emilQ DAILY® thus offers out-of-the-box quality management - always and everywhere.
Why emilQ DAILY®?
Here are 6 reasons to choose emilQ DAILY®. We are looking forward to hearing from you!
Flexible
Stationary or mobile - why not both?
100% responsive and therefore usable with desktop, tablet and mobile phone
Secure
We meet all legal requirements according to the General Data Protection Regulation (GDPR).
Intuitive
Easy to use, uniform interfaces and optimised for efficient usage.
Modular
Many modules can also be used independently of each other, as individual solutions.
Scalable
Add further apps and features at any time.
Open interfaces
Due to the open architecture of emilQ DAILY®, other systems can be fully connected.
Partners & Interfaces
References
Configure your own system and get started!
Go to configurator