Check your business status and identify room for improvement!
A free Express Check or a Full Check shows you how your business performs right now.
Plan your assessments
First you can create Checkup plans to setup an assessment environment. Each environment consist of unlimited Checkups, assigned to different users.
Augment your plans with additional functionality (SMART addons) like sharing Checkups on social media or import large user lists with auto assignment with two clicks. With intelligent activity assignment the system auto-creates activities in DAILY action! based on the result of the assignment.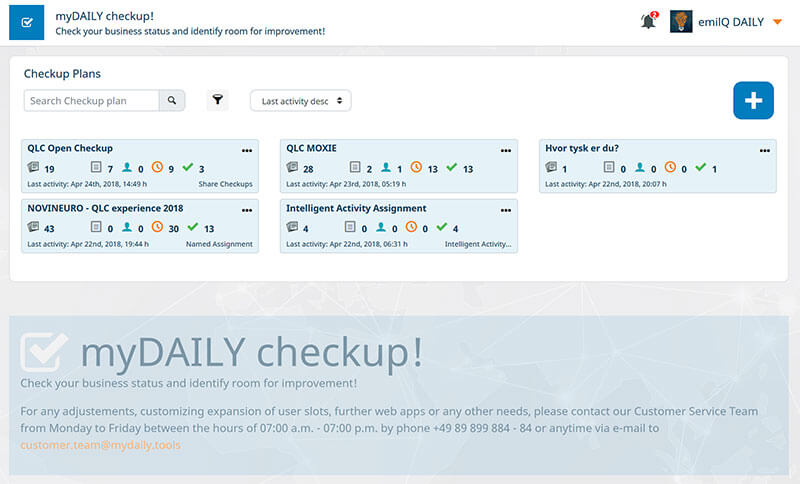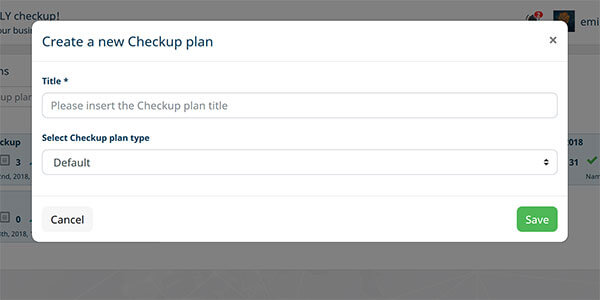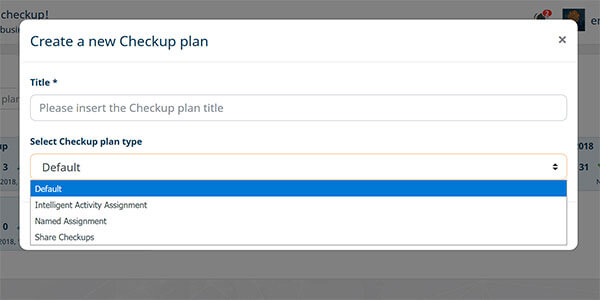 ---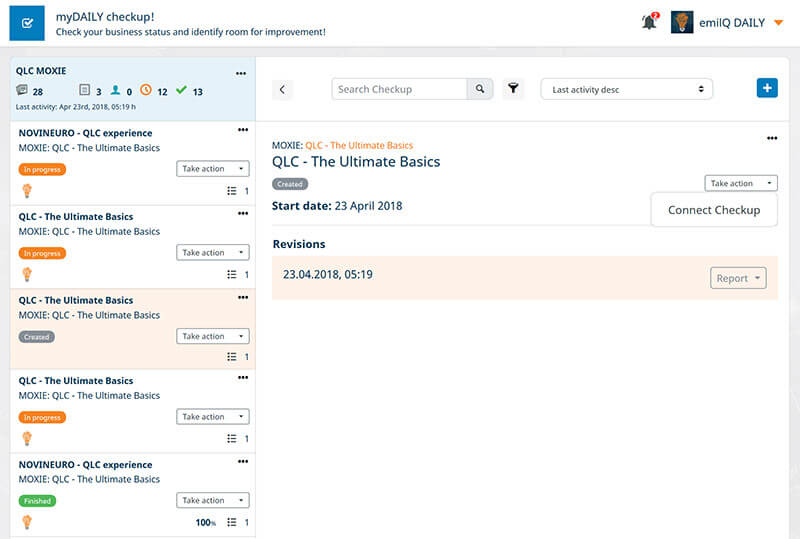 Manage Checkups
By opening a plan you see a list of all included Checkups, the assigned user and, if the Checkup is already finished, the result. From here you can assign new Checkups, start existing one or see the result of finished Checkups and generating reports.
When creating a new Checkup you select the MOXIE, can define a due date or, depending on the chosen SMART addon, import a full list of new users.
When everything is set up, you can send the Checkup link to a user via email or start the Checkup by yourself as an interviewer. If your plan supports the social media sharing functionality (depends on the chosen SMART addon), you get a link for sharing in e.g. LinkedIn or Facebook.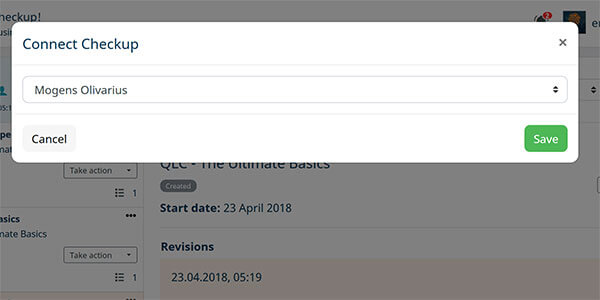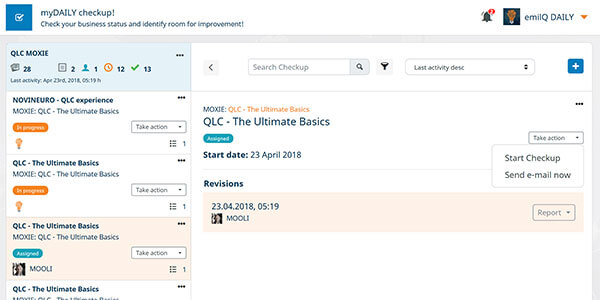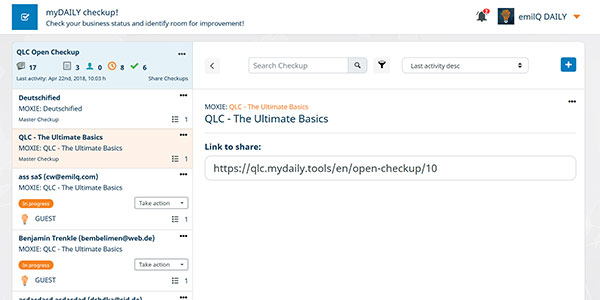 ---
Execute the Checkup
After creating and assigning the Checkup to an assignee it now time to start the assessment.
DAILY checkup! offers different question and answer types (text, image, video, audio, ...) for each Checkup. The assignee solves the questions by activate the suitable answer or insering text. Here DAILY checkup! has different styles: single choice, multiple response or a free field.
The assignee can write personal notes and add attachements to each individual question. This information will be transfered to the result screen after finishing the Checkup.
Some MOXIEs are available in different language. So the assignee can change the Question/Answer language independent from his/her system language.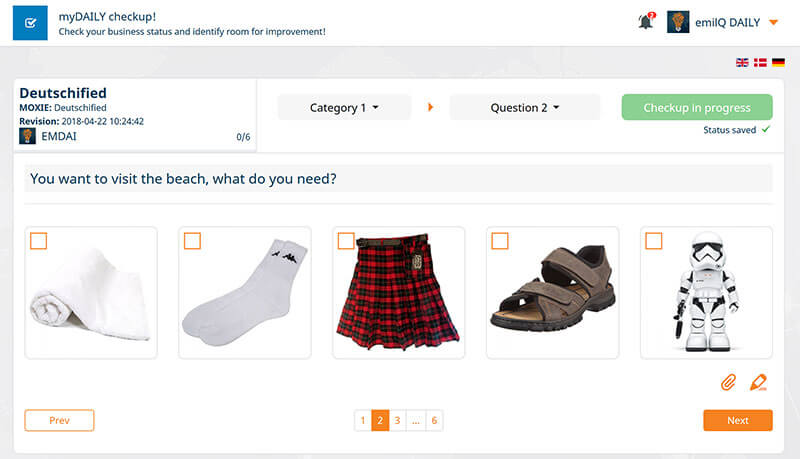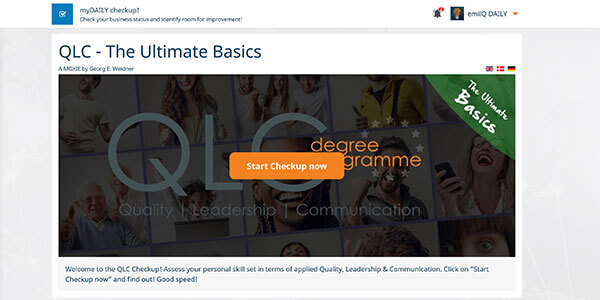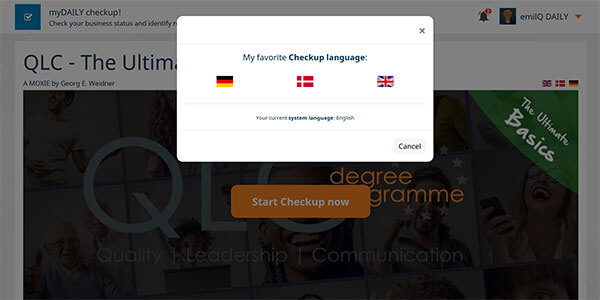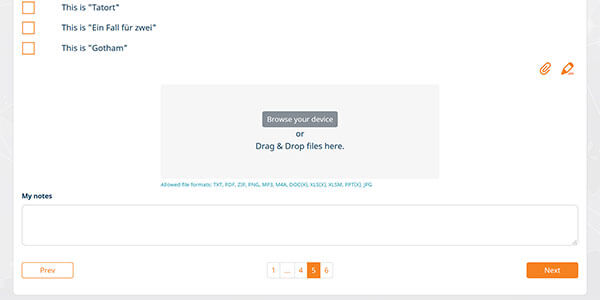 ---
Evaluate your results
Right after you have run a Checkup (Express or Full) you get a graph displayed which shows your total result. It compares your checkup answers with Best Practise (= 100%) of the selected MOXIE.
If you have chosen the option "DAILY coach!" before you have started your Full Check (if provided by the MOXIE-Author), you'll now get dynamic recommendations displayed which you can tailor according to your indivual needs and mark them to be transferred to "DAILY action!" in the next step.
If you're done with the evaluation and the activities to improve your result, you can start a Re-Check to check yourself again. Several Re-Checks generate a Checkup history, which can be compared with DAILY compare!